Need for Speed è una delle serie di giochi che hanno avuto più successo in tutto il mondo. La EA ha appena annunciato che dal primo titolo apparso nel 1994, la serie ha superato le 100 milioni di copie vendute. L'ultimo titolo, Need for Speed Shift, ha permesso di raggiungere questo traguardo, facendo diventare la serie di corse la più venduta nel mondo dei videogiochi. Con Need for Speed la EA si è concentrata sia sulle innovazioni che sulla consistenza del gioco: solo con l'ultimo Shift la serie è diventata più realistica, mentre nei titoli precedenti le innovazioni furono l'Autosculpt, le gare su strada, le personalizzazioni delle auto.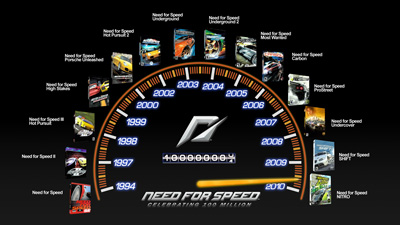 Sin dall'inizio della serie nel 1994, sono stati rilasciati 15 titoli, per più di 14 piattaforme. Ecco alcune interessanti informazioni:
Rilasciato in 22 lingue ed in più di 60 nazioni
I giocatori hanno corso per più di 279 bilioni di miglia su strade e circuiti
Prodotte oltre 17 trilioni di auto modificate create dagli utenti
Apparsi nei giochi attori, modelle e musicisti, tra cui: Brooke Burke, Christina Milian, Emmanuelle Vaugier, Josie Maran, Maggie Q, Kanye West e The Prodigy
Hanno debuttato alcuni remix esclusivi di Snoop Dogg della canzone dei The Door's "Riders on the Storm"
Venduti più giochi che tutte le automobili vendute negli Stati Uniti dal 1994
Se tutte le scatole di Need for Speed venissero aperte una in fianco all'altra, occuperebbero 173.609 campi da calcio
100 milioni sono quasi il numero delle proprietà di case negli Stati Uniti e sono 3 volte la popolazione del Canada
Questo ci fa ben sperare per il futuro di una serie che ha portato intrattenimento a tantissime persone. Dopo Shift, il prossimo titolo in uscità sarà NFS Nitro, per Nintendo Wii e DS, in uscita il 6 novembre; e Need for Speed World Online, che entrerà in fase beta quest'inverno.